Table Tennis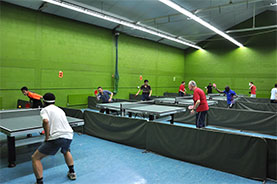 We hire out table tennis tables for a rate of £8.40 per hour. Phone 020-89422157 or email us for bookings or further details.
Senior Citizens table tennis groups
Sue's group: Thursdays 2.00 - 4.00pm
U3A group: Fridays 10.00 - 11.00am
Table tennis coaching



Junior Coaching


Junior table tennis coaching is held on wednesdays from 16.00 hrs to 19.30 hrs, for further information please contact Peter Brown: 020-89420600 or petercb01@hotmail.com


Coaches are also available for coaching in Schools, please contact David on 07964-921555 for further details

Adult Coaching
Table tennis coaching is available by an experienced coach, please call David Bangerter on 07964-921555 for further details.
Graham Spicer Table Tennis Club
If you are an experienced player, you may be interested in contacting the Graham Spicer Table Tennis Club who operate from within our premises, they are a Table Tennis England (TTE) Premier exellence level club who open 6 evenings per week for practice and league games. For further info and contact details please see their website.